Usability Testing
Usability testing with real representative users is the most recognized and accepted way of identifying key usability problems with an interface.
Using our testing center, field testing or remote testing with your customers, we can assess how users behave while attempting common tasks using your site or system. Benefits of usability testing include:
Increase online conversion rates
Encourage online migration
Increase employee productivity
Improve user experience and satisfaction
Understand online user experience alignment with brand goals
How We Test
Moderated face-to-face usability testing
$10,000-20,000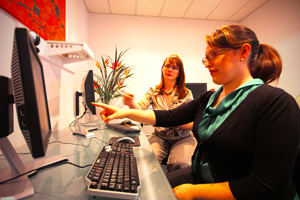 This is a qualitative method is conducted either in our usability testing lab or at our client's site. It involves a one-on-one session with a test participant who is asked to attempt common tasks for that website or system.
This method provides rich data and deep insights into how your users think and behave. We use a think aloud methodology where participants are encouraged to voice their thoughts, expectations and feelings as they perform tasks on the site.
Through verbal feedback as well as observation of actual user behavior and non-verbal cues, we gain a deep understanding of the usability issues experienced on your site or system and can provide recommendations to improve the overall user experience.
$8,000-12,000
We can also test mobile or tablet apps and websites either in the lab or out in the field using our specially designed mobile testing technologies and tools. See mobile and tablet testing for more details.
General Notes
What we test
It is best to test early and test often. We have tested a range of products at all stages of the development life-cycle, these include:
Websites
Mobile websites and applications
iPad and tablet applications
Intranets
Desktop and web applications

Information architecture and menu labeling

Wire-frames (low and high fidelity)
Prototypes (paper and electronic)
When to test & benefits
There are many stages in a website's life-cycle that can benefit from usability testing. Each stage has its benefits, as outlined below:
Analysis: Test existing site
understand the current state of your site
identify usability issues preventing users from completing tasks
help define project scope and goals
Design: Test IA, prototypes, interaction flow & visual concepts
identify major usability issues early when they are easy and inexpensive to fix
identify major flaws in interaction flow prior to coding
measure alignment with branding goals
Implement: Test new site prior to launch at various stages of development
establish or validate that the site meets an acceptable standard before it is released
identify any 'show stopper' usability issues for users pre-launch
identify other issues to be fixed after launch or in the next release
Evolve: Test new content & features
identify usability issues to fix as users evolve
refine your website to encourage greater online migration of your customers from other channels or competitors
understand where customers expect to find new functionality and content
How long it takes
Over a period of 3 to 4 weeks we can generally complete a round of usability testing of your site or system. This is a flexible approach and can be scaled to meet your business needs and deadlines.
Cost
Usability testing does not have to be expensive, especially when you consider testing early can save significant development costs later on. We have conducted testing projects from as little as $5,000 to as much as $40,000. To request a quote for testing services give us a call. We'll be able to determine the best services based on your time, budget and design constraints and tailor the project, deliverables and costs accordingly.